Days of '47 Goldenwest Credit Union
Days of '47 Royalty Pageant, 2017
Entry Forms
Download the 2016 Pageant Application Form
The Queen and Her Attendants Will Reign Regally!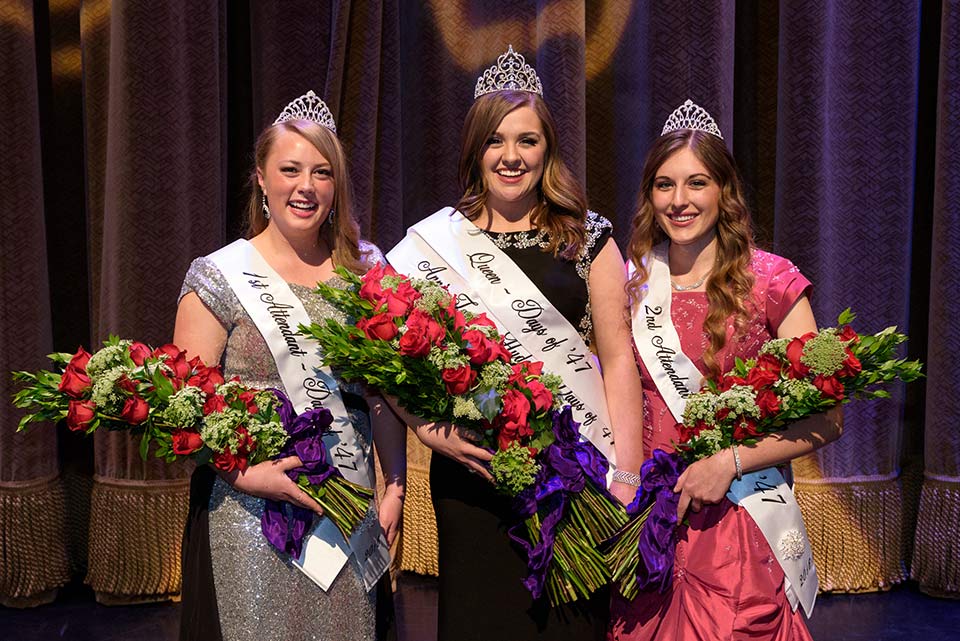 photo credit: Charles Uibel, Great Salt Lake Photography
QUEEN: Baylee Rose Hogan
Baylee Hogan is the daughter of Monte and Christine Hansen of St. George, Utah. She has been master of ceremonies at community and school events such as Dixie High senior night and the Miss St. George pageant. Baylee is a classically-trained vocalist with special training in Latin, opera and operetta. She is also a pianist. Baylee was Miss St. George City, served on the St. George Youth City Council and as the Dixie High School volleyball team captain. She is an oil and sketch artist as well as being fluent in Italian and American Sign Language. Baylee has the added distinction of being the first young woman to be awarded both the crown as queen of The Days of '47, but also the recipient of the Annie Taylor Hyde award, an honor bestowed by her fellow contestants. She also returned from an LDS mission in Italy a mere two weeks before joining The Days of '47 pageant.
FIRST ATTENDANT: Rachel Kennedy
Rachel is the daughter of Ken and Nancy Kennedy of Brigham City, Utah. She was voted the University of Utah's Athletic Training Student of the Year in 2013, won the Utah State Sterling Scholar Competition in Family and Consumer Sciences and is currently a resident advisor to 40 first year students, helping them transition from home to college life. Rachel currently attends the University of Utah where she is studying Athletic Training with a minor in nutrition. She is also a member of the Phi Eta Sigma Honor Society. She served an LDS mission in Wellington, New Zealand, where she was a sister training leader for 10 months.
SECOND ATTENDANT: Stephanie Bland
Stephanie is the daughter of Jeffrey and Laura Bland of Smithfield, Utah, where she also was a member of the City's royalty. She graduated from nursing school and is currently working as a registered nurse. She received high honors from Weber State and maintained an outstanding grade point average at Utah State University. She was the historian of Health Occupational Students of America and is active in the Rotaract service in Mexico which helps make wheelchairs accessible to the disabled. She has been assistant site leader for an orphanage in Quito, Ecuador. Stephanie Bland served in the Washington, Kennewick Mission, Spanish.
---
About the Event
One of the year's highlights for the Royalty members and the entire state is one of the oldest parades in the country, The Days of '47 Parade, seen by thousands in person and by hundreds of thousands who watch the live broadcast on television. In 2017, the Parade will be held on Monday, July 24th at 9:00 a.m. beginning in downtown Salt Lake City and ending at Liberty Park. The 2017 Royalty will be there too!
The Pageant is produced by the International Society Daughters of Utah Pioneers.
Royalty Blog
daysof47royalty.blogspot.com/
When
Thursday - April 20th, 2017
Friday - April 21st, 2017
Saturday - April 22nd, 2017

Where
LDS Conference Center - Little Theater
60 West North Temple
Salt Lake City, Utah
Produced By
The International Society Daughters of Utah Pioneers
To learn more click here: International Society Daughters of Utah Pioneers.
Event Description
This year's theme, "Pioneers -- Visions of a New Horizon" will be exemplified in the young women who participate in The Days of '47 Royalty Pageant for 2017. These contestants, who are descendants of pioneers who arrived in the valley between 1847 and 1869, are pathfinders of today. They represent the high standards of modern-day pioneers with a love of their pioneer heritage and a vision of the difference young women can make in the world.
The pageant to select a 2017 queen and two attendants will be held on April 20th through the 22nd at the Conference Center Theater, located at 60 West North Temple Street in Salt Lake City. The Annie Taylor Hyde Award will also be presented to a young women (chosen by her peers) for her consideration for others, congeniality and modesty, among other traits. Please visit www.isdup.org for application information. Scholarship amounts from $500 to $3,000 will be awarded to the Royalty and the Annie Taylor Hyde award recipient. The application deadline is April 1, 2017.
The pageant is produced by the International Society Daughters of Utah Pioneers. All the young women who will be competing are between the ages of 19 and 25. The chosen royalty will ride in The Days of '47 Parade, will be in attendance at many functions (such as The Days of '47 Rodeo), and will speak at numerous gatherings and events during the summer of 2017. They will be role models to all young women who hear their message as they represent the State of Utah, The Days of '47 and Daughters of Utah Pioneers.
Appearances
The three 2017 Days of '47 Royalty members will be available for appearances and speaking engagements from June through August. Cathy Ehlert and Judy Binns will act as the 2017 Royalty Advisors. Arrangements for appearances by our Royalty may be made by contacting Ms. Ehlert at 801.274.1224 or casehlert@gmail.com.